Happy Halloween people! It's my favorite holiday of the year, besides Christmas. So I thought I would list some of the best books to read on Halloween.
If you're going out tonight what are you going as? I was going to be Lily Munster, but couldn't get a costume so now I'm staying in and watching old black and white scary movies with my dad. If you're not going out what will you be doing?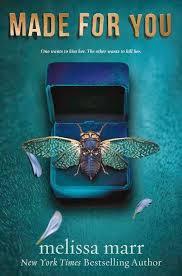 1. Made for You by Melissa Marr
When Eva Tilling wakes up in the hospital, she's confused—who in her sleepy little North Carolina town could have hit her with their car? And why? But before she can consider the question, she finds that she's awoken with a strange new skill: the ability to foresee people's deaths when they touch her. While she is recovering from the hit-and-run, Nate, an old flame, reappears, and the two must traverse their rocky past as they figure out how to use Eva's power to keep her friends—and themselves—alive. But while Eva and Nate grow closer, the killer grows increasingly frantic in his attempt to get to Eva.

For the first time, New York Times bestselling author Melissa Marr has applied her extraordinary talent to contemporary realism. Chilling twists, unrequited obsession, and high-stakes romance drive this Gothic, racy thriller—a story of small-town oppression and salvation. Melissa's fans, and every YA reader, will find its wild ride enthralling.
So this one was a little creepy. She has a stalker and he goes around killing people trying to get her attention and send her messages. He thinks that this will make her love him. It's a really good book, and a little creepy at times.
2. Blackbrooke by Emma Silver
I live in Blackbrooke and you would have had to be living under a rock to never have heard of it before now. This town is different to most others…Humans aren't the only residents…"

The residents of Blackbrooke share their town with the Creatures, or Crits as they are known. Grotesque, roaming the streets at night looking for food, their presence means humans have to live by the Rules, keeping them indoors and forbidding them of basic desires.

The most important Rule?

Don't be a 'walk out'!

Straight-A student, Liberty Connor, hates the Crits and the endless Rules she and her tight knit group of friends have to live by.

Planning her new life on the Outside with her boyfriend, Gabriel, Liberty whiles away her days waiting to turn 18, so they can leave and be free. That is, until the world she thinks she knows begins to unravel…

Her friends start to walk out. So she's told. However, something's not right. Things don't add up.

Liberty faces a race against time to discover what's going on with the Creatures of Blackbrooke.

Is it them she has to fear, or something much closer to home?


Blackbrooke is a Young Adult horror novel that has you on the edge of your seat.
Um hell yeah, if you want to be freaked out then definitely read this book. It is creepy and will keep you on the edge of your seat.
3. Deception by Lee Nichols
When Emma Vaile's parents leave on mysterious business trip, it gives her the perfect excuse to be a rebellious teen. Throw some parties, get a tattoo (or maybe just a piercing), and enjoy the first few weeks of her junior year. Then her best friend stops talking to her, the cops crash her party, and Emma finds herself in the hands of a new guardian—her college-age "knight in J.Crew armor," Bennett Stern—and on a plane to his museum-like mansion in New England.

After enrolling at Thatcher Academy, Emma settles in by making friends with the popular legacy crowd. But she can't shake the strange visions that are haunting her. She has memories of Thatcher she can't explain, as if she's returning home to a place she's never been. Emma doesn't trust anyone anymore—except maybe Bennett. But he's about to reveal a ghostly secret to Emma. One that will explain the visions . . . and make Emma fear for her life.
This one will keep you on the edge of your seat. It's got ghosts. I would highly recommend this book. It's a good read.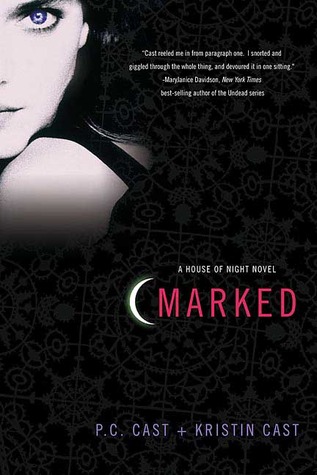 4. Marked by P.C. Cast and Kristin Cast
After a Vampire Tracker Marks her with a crescent moon on her forehead, 16-year-old Zoey Redbird enters the House of Night and learns that she is no average fledgling. She has been Marked as special by the vampyre Goddess Nyx and has affinities for all five elements: Air, Fire Water, Earth and Spirit. But she is not the only fledgling at the House of Night with special powers. When she discovers that the leader of the Dark Daughters, the school's most elite club, is mis-using her Goddess-given gifts, Zoey must look deep within herself for the courage to embrace her destiny – with a little help from her new vampyre friends (or Nerd Herd, as Aphrodite calls them)
This one can get a little creepy at times, but it's just kind of a good read because it's got vamps. The rest of this series gets darker and darker though.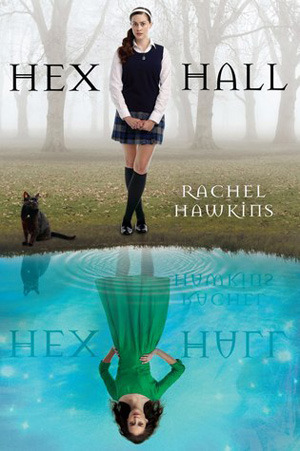 5. Hex Hall by Rachel Hawkins
Three years ago, Sophie Mercer discovered that she was a witch. It's gotten her into a few scrapes. Her non-gifted mother has been as supportive as possible, consulting Sophie's estranged father—an elusive European warlock—only when necessary. But when Sophie attracts too much human attention for a prom-night spell gone horribly wrong, it's her dad who decides her punishment: exile to Hex Hall, an isolated reform school for wayward Prodigium, a.k.a. witches, faeries, and shapeshifters. By the end of her first day among fellow freak-teens, Sophie has quite a scorecard: three powerful enemies who look like supermodels, a futile crush on a gorgeous warlock, a creepy tag-along ghost, and a new roommate who happens to be the most hated person and only vampire student on campus. Worse, Sophie soon learns that a mysterious predator has been attacking students, and her only friend is the number-one suspect.
As a series of blood-curdling mysteries starts to converge, Sophie prepares for the biggest threat of all: an ancient secret society determined to destroy all Prodigium, especially her.
So this one has demons, witches, shapshifters, faeries, and a psychotic ghost. What more could you ever possibly need?
6. School Spirits by Rachel Hawkins
Fifteen-year-old Izzy Brannick was trained to fight monsters. For centuries, her family has hunted magical creatures. But when Izzy's older sister vanishes without a trace while on a job, Izzy's mom decides they need to take a break.

Izzy and her mom move to a new town, but they soon discover it's not as normal as it appears. A series of hauntings has been plaguing the local high school, and Izzy is determined to prove her worth and investigate. But assuming the guise of an average teenager is easier said than done. For a tough girl who's always been on her own, it's strange to suddenly make friends and maybe even have a crush.

Can Izzy trust her new friends to help find the secret behind the hauntings before more people get hurt?

Rachel Hawkins' delightful spin-off brings the same wit and charm as the New York Times best-selling Hex Hall series. Get ready for more magic, mystery and romance!
7. Dr. Jekyll and Mr. Hyde by Robert Louis Stevenson
Robert Louis Stevenson originally wrote "Dr. Jekyll And Mr Hyde" as a "chilling shocker." He then burned the draft and, upon his wife's advice, rewrote it as the darkly complex tale it is today. Stark, skillfully woven, this fascinating novel explores the curious turnings of human character through the strange case of Dr. Jekyll, a kindly scientist who by night takes on his stunted evil self, Mr. Hyde. Anticipating modern psychology, "Jekyll And Hyde" is a brilliantly original study of man's dual nature -- as well as an immortal tale of suspense and terror. Published in 1866, "Jekyll And Hyde" was an instant success and brought Stevenson his first taste of fame. Though sometimes dismissed as a mere mystery story, the book has evoked much literary admirations. Vladimir Nabokov likened it to "Madame Bovary" and "Dead Souls" as "a fable that lies nearer to poetry than to ordinary prose fiction."
The man becomes an evil version of himself and he doesn't remember what he does. It's kind of chilling and one of my all-time favorite books.
So that's my list people. Happy Halloween!
~~~~~A