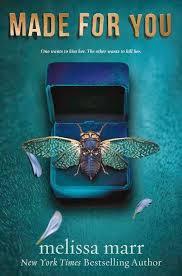 Bestselling author of the Wicked Lovely books Melissa Marr's first contemporary YA novel is a twisted southern gothic tale of obsession, romance, and murder. A killer is obsessed with Eva Tilling. Can she stop him, or will he claim her?

When Eva Tilling wakes up in the hospital, she's confused—who in her sleepy little North Carolina town could have hit her with their car? And why? But before she can consider the question, she finds that she's awoken with a strange new skill: the ability to foresee people's deaths when they touch her. While she is recovering from the hit-and-run, Nate, an old flame, reappears, and the two must traverse their rocky past as they figure out how to use Eva's power to keep her friends—and themselves—alive. But while Eva and Nate grow closer, the killer grows increasingly frantic in his attempt to get to Eva.

For the first time, New York Times bestselling author Melissa Marr has applied her extraordinary talent to contemporary realism. Chilling twists, unrequited obsession, and high-stakes romance drive this Gothic, racy thriller—a story of small-town oppression and salvation. Melissa's fans, and every YA reader, will find its wild ride enthralling.
~~~~~~~~~~~~~~~~~~~
Okay so I'm going to forewarn you about this book. This can get a little graphic and a little gruesome. So if you aren't the type that likes stalker movies and shows than you will not like this book at all. I'll give you an example of what it reminded me of: Scream. Not exactly like Scream, but that is kind of what I thought of when I read this book.
So this book centers around a girl named Eva Tilling who grew up in a small town in North Carolina. Her stalker believes that the older generation is going to corrupt her, and that it is his mission to save her. Then he hits her with a car. She doesn't die, so he believes that God is giving him a second chance to help her, to save her soul. This guy is a little psycho, okay no not a little, a lot.
There are so many people that you expect it to be. There's Nathan the best friend, the ex-boyfriend, so many freaking people. To be honest I thought it was the boyfriend.
I'm not going to tell you who did it because then that will ruin the who book for you and what kind of person would I be if I did that?
Then I thought it was Nate, the best friend who wasn't there for her for a while, he just sort of appeared suddenly one day and I thought that was a little suspicious. Okay so he's not the killer and I was so glad because I really liked Nate. He was just perfect, except for the fact that he was sort of a man slut.
Although I think he was good for her because he was really there for her when she found out that she had a stalker, and he protected her. He totally made it onto my fictional boyfriend list.
Then there was her best friend Grace. I liked Grace, and I liked how she was also there for Eva and wanted to protect her. I liked Eva's mom, I thought she really had character.
Okay so I needed a gif here and this was the only cool mom gif I could find. She's is so not creepy like Regina George's mom. Eva's mom is actually cool and not the creepy I think I'm cool.
So again I must say if you can't handle movies with crazy stalkers and such then don't read this book. But if you're like me and love this kind of thing then yeah give it a try because it is really good.
Overview:
Stars: Five Stars
Author: Melissa Marr
Series Book: No
Will I Read The Next One: Um no because it's not a series book.
~~~~AJ