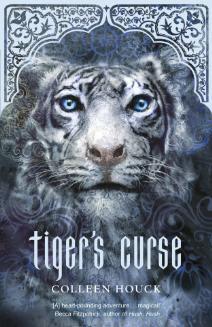 Passion. Fate. Loyalty.

Would you risk it all to change your destiny?

The last thing Kelsey Hayes thought she'd be doing this summer was trying to break a 300-year-old Indian curse. With a mysterious white tiger named Ren. Halfway around the world. But that's exactly what happened. Face-to-face with dark forces, spellbinding magic, and mystical worlds where nothing is what it seems, Kelsey risks everything to piece together an ancient prophecy that could break the curse forever.

Tiger's Curse is the exciting first volume in an epic fantasy-romance that will leave you breathless and yearning for more.
~~~~~~~~~~~~~~~~~~~~
I actually read this back in 2013, but I just finished reading it to my mom and she loved it too. We've been arguing back and forth of who we like Kelsey better with. I say Ren she says Kishan. You see I want Kishan all to myself.
I loved this book. I got it for my birthday one year and I wasn't so sure if I would like this series or not. I was on the fence about this one. But I am so glad that I picked it up!
So Kelsey just graduated high school and she's looking for a summer job before college, and boy does she snag a good one. She signs up to be a temp at a circus helping with sales and animals. There she finds a white tiger that she connects with. She spends a few weeks at the circus when a mysterious man named Mr. Kadam shows up and wants to buy Dhiren, the tiger. Kelsey is absolutely horrified by the idea of losing Ren. Then Mr. Kadam offers her a job. She is to travel to India with him and Ren and see Ren settled into his new home. She's not sure, but agrees because she wants to spend time with Ren. Once in India she discovers that he is an ancient Indian Prince and now she's enlisted to help break an ancient curse.
She's not to thrilled about that at first, but does it anyway.
At first I didn't think I'd like Kelsey, she seemed like a plain Jane, but she grew on me the more I got to know her. She lives with a foster family because her parents were killed by a drunk driver her freshman year of high school. She loves her foster family, but she misses her parents. She has a sarcastic side and that doesn't really come out until the end of the book.
Ren is, well Ren is really dreamy. I liked him from the beginning. He was suave, and charming, and a whole lot of other things too. I liked him better with Kelsey, but I have an ultimatum, I want Kishan all for myself.
Kishan, oh mama, Kishan is even more charming than his brother. He also has a dirtier mind. I must say the younger brother caught my attention quickly.
READ THIS BOOK. Read this series. This is the best series ever. It made me laugh. It made me cry. It made me happy. It made me a lot of things. This is definitely always going to be one of my favorite series ever. If you like ancient curses, hot guys that can turn into tigers, and India than this is definitely the book for you.
Quotes:
"His eyes drifted leisurely back up to my face and he smiled at me appreciatively, "Kelsey, when a man spends time with a beautiful woman, he needs to pace himself. I quirked my eyebrow at him and laughed. "Yeah, I'm a regular marathon alright." He kissed my fingers. "Exactly. A wise man never sprints…in a marathon."
"Perfect! Now we're being chased by hoards of monkeys! Perhaps you would care to name their species as we're attacked, just so I can appreciate the special traits of said monkey as it kills me!"
"At least when the monkeys are harassing you, you don't have any time to harass me!"
"He then put both hands on the door on either side of my head and leaned in close, pinning me against it. I trembled like a downy rabbit caught in the clutches of a wolf. The wolf came closer. He bent his head and began nuzzling my cheek. The problem was…I wanted the wolf to devour me."
"That was a pygmy marmoset by the way. Just in case you were wondering." I wheezed. "Thank you oh Walking Monkey Dictionary."
Overview:
Stars: Five Stars
Author: Colleen Houck
Series Book: Yes
Will I Read The Next One: Yes, yes I will.
~~~~AJ